When I was a young kid, we lived about 20 minutes away from my grandparents and we were able to visit often. I adored my grandparents. My grandma had a smallish counter between the fridge and the oven. It had gold tiles with white caulking. I remember it so well because it was at eye level. There were tan drawers under it, and tan cupboards above and on this counter, my grandma would place the latest baked cookies and candies she had made or other special treats my grandpa would bring home from Smart and Final. He loved Smart and Final and their BIG everything!
Butterscotch Cornflake Cookies are crunchy cornflakes coated in sweet butterscotch, peanut butter and nuts. They were perfect when I was a kid and they are perfect now that I am an Oma!!
My grandma made several of my very favorite things, one of them were these Butterscotch Cornflake Cookies. This is probably the simplest recipe I have ever come across for cookies, but they taste so good and seem to satisfy all the senses. They are crunchy from the cornflakes, sweet from the melted butterscotch, creamy from the peanut butter, and a little salty from the nuts.
When I make these Butterscotch Cornflake Cookies, I usually make a big batch. My sons always said they liked to help me make these, but what that really meant was "Mom, you keep piling these up on the wax paper and we will come behind you and eat whatever falls off the pile." Born helpers they were!
Butterscotch Cornflake Cookies are one of my favorite cookies. I suspect they will soon be on your favorite list too!
When I was a young adult and moved 2 states away with my husband and sons, my grandparents came to visit us. I had wanted to ask grandma why they planned to drive, when they could well afford to fly, but I never did. When they pulled up to the house, it was clear to me that grandma must have sensed we were feeling a little home sick in our new town, because in the trunk, she had in her HUGE, round Tupperware container, (the one she only used to make massive amounts of dressing during the holidays) was a massive batch of these Butterscotch Cornflake Cookies. In their trunk, were also boxes filled with her homemade jellies for Craig and other goodies for the boys. It was obvious then, that they drove the distance, so they could bring us some "home."
My grandparents were these people. The kind of people who would drive 2 states to bring homemade canning, baking, garden fresh vegetables and tasty treats, all an effort to remind us we are loved and thought of, even though we were far away. My sons have grandparents like this, and my husband and I try to be these grandparents to our grandsons. These were my people and I am so proud of them and the example they were to us.
Butterscotch Cornflake Cookies require no baking. You are going to melt the butterscotch chips and peanut butter together in a sauce pan. When this has melted, you will pour it over the bowl of cornflakes and walnuts, tossing to coat as you go. Once these are well coated, you place mounds of the mixture on wax paper and let them cool, where they will harden, so you can pick them up and eat them. That's it!
Butterscotch Cornflake Cookies
Butterscotch Cornflake Cookies are an easy no bake cookie, crunchy from cornflakes, coated in sweet butterscotch, peanut butter and and nuts.
Ingredients
2

packages

Tollhouse Butterscotch Chips

1/2

cup

peanut butter

I use creamy, but crunchy is good too

6

cups

cornflakes

generic cornflakes are typically thicker and work better

1-1/2

cup

coarsely, chopped walnuts

pecans are good alternative
Instructions
Place butterscotch chips and peanut butter in a medium sauce pan on medium, stirring often until melted.

Coarsely chop the walnuts and set aside.

Put cornflakes in a large bowl. Pour melted butterscotch and peanut butter mixture over the cornflakes and dump chopped walnuts on top of this. Then carefully, mix well to coat all of the cornflakes and nuts well. This may take a few minutes.

Drop piles (approximately a large tablespoon size) of the warm, cookie mixture onto a piece of wax paper and let cool for approximately 30-45 minutes or until you are able to pick up a cookie without it breaking apart.
Every single time I look at this recipe, hand written in my grandmas, shaky script, I think of her and grandpa. Every time I put these Butterscotch Cornflake Cookies, piled into my HUGE Tupperware container, I think of being a little girl who's eyes only went up to the countertop, where I would spy these waiting for me. Or the homesick young mother who felt the eternal love a grandparent feels for their grandchild. I was so lucky to have them for grandparents then and so blessed to have these memories now. Food more than nourishes the body, it also nourishes your head and your heart. Enjoy friends!
Check out Houseful Of Cookies!
Houseful of Cookies is an annual, virtual cookie hop, hosted by Natasha Nicholes of Houseful of Nicholes. She really likes playing on the "Houseful" theme when there is more than one of something, and since there's more than one cookie…here we are. Each year, she gathers a bunch of us from the internet to bake up our epic cookie creations and share them with all of you! It's a fun time, and we all have dealt with butter, flour, and various flavorings to bring you our goodies each year. This year, we present to you, our cookie hop.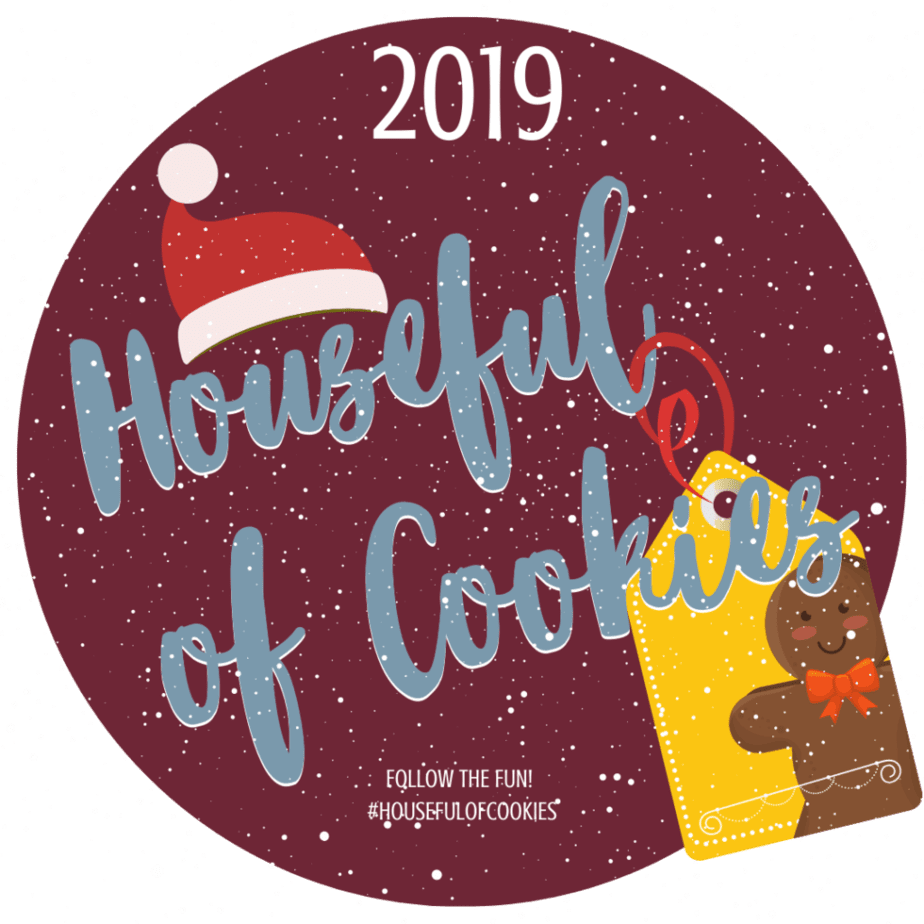 Houseful Of Cookies Participants
Brownie Cookies – Houseful of Nicholes
Chocolate Rolo Surprise Cookies – Good Girl Gone Redneck
The Perfect Christmas Sugar Cookies – Love, Jaime
Cake Mix Santa Cookies – Dairy Carrie
Candy Cane Cookies – Brooklyn Active Mama
Chocolate Dipped Peppermint Shortbread Cookies – Honest & Truly
Gingersnap Cookies – Divas With A Purpose
Decorated Ugly Sweater Cookies – 100 Directions
Minnie Christmas Headband Cookies – Cutefetti
Birds Nest Cookies – My Crafty Life
Cranberry White Chocolate Chip Cookies – Kenya Rae
Gluten-Free Russian Tea Cakes – Day by Day in Our World
Not His Mamma's Tassies – Heather Spins a Yarn
Molded Peanut Butter Cookies – This Mamas Life
Not Your Mama's Milk & Cookies – Life of a Ginger
Peanut Butter Marshmallow Chocolate Chunk Cookies – Mama Harris' Kitchen
Coffee Sandwich Cookies with Browned Buttercream Filling – How Was Your Day?
Coffee Cookies – Someday I'll Learn
Toffee Bits Cookies – This Worthey Life
Fruitcake Cookies – Sugar, Spice, & Glitter
Keto Almond Joy Cookies – The Crunchy Mommy
My grandma's Butterscotch Cornflake Cookies are one of my favorites from my childhood. Do you have a favorite cookie your grandma made for you?